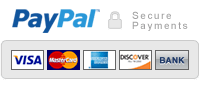 You can shop with confidence at Aquarius Flower Remedies. We do not process any transactions on the site nor store your payment or credit card information.
We use Paypay as our payment gateway as it is secure, and you can use your credit card there if you don't have a Paypal account.

Alternatively you can phone your orders to 01626 854289

Posting / Shipping Prices
The website calculates the postal cost of your parcel on weight, not volume. When you proceed to the checkout you will be able to see which weight band your order falls within and the price of postage.
Posting / Shipping Methods
We offer 2 shipping methods within the UK
UK Priority is by 1st. class post and should reach you in one working day.
UK Standard is by 2nd. class post and should reach you in two to three working days.
EUROPE all remedies sent by airmail and should reach you within 5 working days.
USA AND REST OF WORLD all remedies sent by airmail. Times of delivery vary, depending upon country but approximately will take 1 week.
Posting / Shipping Times
We aim to post all orders within 48 hours. Usually it is done within 24 hours.
All remedies are posted inland by 1st class and overseas by airmail.
Heavier items, such as boxed sets of remedies have cheaper and slower shipping options available at point of purchase. Cheaper shipping options can take up to 8 weeks for overseas deliveries.
Publications are posted by second class mail.
If your order has not arrived after a week, give it a couple more days and then contact us.